Post by Deleted on Oct 29, 2019 1:23:05 GMT -5
This thread is for anyone wishing to discuss alternative energies.
Such as solar energy and batteries.
Micro hydro generation from stream or river.
Wind turbines.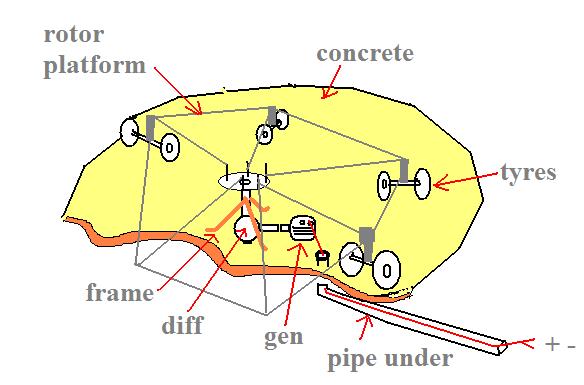 I love designing, creating and solving problems. I hear Dave's has a brilliant vertical wind turbine that has caught my attention. After many hours of thinking, I thought this is perhaps the cheapest best design yet. I like to keep designs simple.
First make a concrete slab, say circular at least 4 metres in diameter, with a 90mm poly pipe placed underneath, near centre to outside. This pipe carries the wires of the generated power to your house.
Get a second hand diff , remove star gears inside, remove one axle, and fix the other axle vertically upwards, with bracing frame. Couple the generator to the diff shaft.
Place steel straps over each stub bolt on the wheel of the axle, so the straps can move up and down but not side to side. This allow the rotor platform to turn without vibrations or the product to be made precise.
Obtain wheels with bearings, and fix them parallel to the spokes radiating outwards from the centre. It is critical these are aligned so the rotor platform turns easily, but the wheels support the weight of the rotor platform.
With other steel straps, link the wheel ribs together making a triangle shape. If you have a 5 wheel stub, you need 5 wheel ribs, if a 6 wheel stub, you need 6 wheel ribs. Once the platform is made check it turns easily and smoothly.
Make the structure on the rotor platform for each wind vane, say 1.5 m high. Purchase 5 or 6 sheet metal, say 1.2 m wide and 2.4 metres long. Bolt one end to the front upright frame and curve each vane to bolt onto another vertical frame upright.
The sheet metal is expensive, but I am not sure what else to capture wind, this makes the curved vanes a full 4m wide and 1.2 m high.
Another idea is to make 40 gallon drums, cut lengthwise, weld two on end, and place these on the outer edge of the platform. This catches less air, but is cheaper to built. The circumference of a 4m rotor platform is 12 metres, so this allows 24 drum vanes to be fitted on the outside, and the distance from centre, enough torque to turn in a small breeze.
Fitting a gear box to the dig shaft allows a geared difference for the generator, just select the gear you want.
Motor wheels and tyres would be best as the bigger wheels, the less torque required to make the rotor platform turn, so being 2 metres from the centre, the platform should turn OK.
It would be a test of weight verses rotor platform diameter.
Instead of two wheels on each spoke, maybe a single motor bike tyre on each spoke might be better?
I wish their was a website explaining such technology like this easily, as its hard to get experience unless you try things yourself.
Have fun creating like our Creator can. We are just not as smart. However it helps us appreciate created things if we try to create ourselves in a humble manner. Shalom