Post by Deleted on Nov 8, 2020 15:44:06 GMT -5
D: "He has them all in parallel - all charge and all supply
except - any 6 battery bank that under preforms disconnects -
shows up on the monitor
and he can address any battery issue as it begins

R "wow. That could work. Nice idea.

However my understanding is if you parallel a good battery to a weak battery,
The weaker battery immediately pulls the other down, removing it's current storage?

A way around this is to hook up in series, and charge in series.

SO purchase for $5 each, 20 old truck batteries, say 300amp hr each, lets say they have 3 amp hr left in them.
In series this is a voltage of 120VDC, and the total power available in watts is 360watts. Terrible idea?

What if you get 10 amp hrs out of each weak battery? That's now a storage of 3600 watts. Getting better ?
And the system only costs you $100. And will last forever.

But its very very dangerous mucking around with 120Volt DC, its lethal. so be warned, but this idea would work.

You could wire in series 40 weak truck batteries and get 6 units of storage for just $200 investment.

But the danger level goes up. You also require custom made solar controller, to wire in series the voltage required 240Volt DC, and a custom made inverter to deal with 240Volt DC to 240Volt AC.

And apart from the custom design, this system is cheap, costing you so far $200.
But the power room is dangerous, 240V DC.


D" This is off grid – but still in system – always having to buy gas

R You can make methane gas. Set up grass in a cubic metre cage under dumb bell or water tank.
A cubic metre makes a 10 day supply of methane in just 14 days. Use a scrubber to remove H2S.
And plug directly into your appliances. Will need to heat water a bit, as digester bacteria like it warm, around 25 degrees Celsius.

D: "YES! We live a very weird life style – back in my home area of Northern Indiana
R I would love this country living.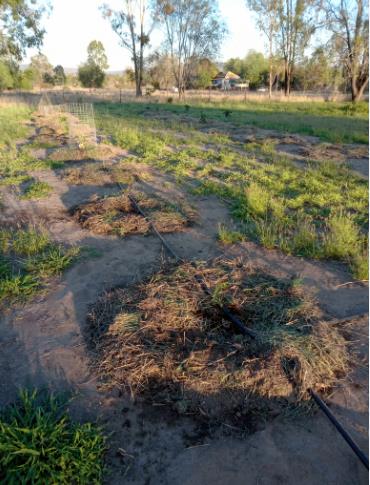 We live in the country climate sub tropical part of Queensland Australia. Our winters help get rid of bugs. But its only 2 frosty nights and for you temperatures above 60F
Here I have cleared a mulch ring for each fruit tree, in our new orchard. This one will be a wire shed to keep off parrots and holds 50 trees, around 50 m by 30 m in size. In all we have 100 fruit trees, some over 100 yrs old.
Each tree is watered automatically by water controllers along 25 mm pipe and drippers.
Shalom